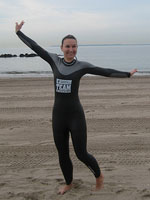 Oh, geez: My first triathlon is in exactly one month.
As Health.com's resident fitness blogger, I'm used to trying new exercises and challenging myself to stay in shape while balancing work and a personal life. But a triathlon? Six months ago this was just a crazy idea in my head—and now it's almost here.
It all started when I ran my first half marathon last year. I did finish and I did learn to enjoy it, but once it was over I quickly became lazy again. I couldn't motivate myself to get out and pound the pavement regularly without a goal in mind. And soon, I was struggling to run just three miles at a time. How could all the progress I'd built up have wasted away so quickly?
So I knew I needed something new to strive for; something, preferably, that didn't involve so much running. A triathlon seemed perfect: I love swimming, I love biking, and, well, I can tolerate running. A few friends were signing up for the Nautica New York City Triathlon—then still half a year away, far enough to not really think about—so I tagged along to the organizational meeting, not really knowing what to expect.
It's been a long few months, to be honest, but completely worth it so far. I'm training with the Leukemia and Lymphoma Society's Team in Training, one of the largest fundraising athletic organizations in the country. And in return for raising money for their cause, the LLS gives us coaches, practice schedules, and even a wetsuit. I have to say, it's a pretty sweet deal.
My first open water swim practice: Coney Island at 8 a.m.!I've kissed my Friday night social events good-bye and swapped them for 7 a.m. Saturday practices in the park. I've grown fond of the lingering chlorine smell that sticks with me after my morning swims, no matter how long my showers last. And I've actually learned how to change a bike tire. (It's harder than it looks!)
Having a structured workout program back in my life has been a welcome change. When I'm following a routine, I feel like I'm more productive throughout my whole day, because I have less free time and I value it so much more. I go to bed earlier, eat healthier (healthier quality, at least, if not quantity), drink less alcohol, and generally feel more energized. I've never had a drug or alcohol problem, but I can totally see what these former addicts mean when they cite their new fixation on triathlons.
So now, with one month left, I'm back in pretty good shape—I can swim a mile, bike 25 miles, and run six miles, all with relative ease. Only problem is, I still haven't tried to do all those things back to back. And during these last 30 days, I know I really need to concentrate and stick with the program.
To do that, I'm adding a new element to my training regimen. I'm determined to blog at least once a week from now until the race on July 26. To me, it's extra incentive to keep up the hard work and resist the urge to quit while I'm ahead.
I'll share my tips and strategies leading up to the big day, and hopefully will have a full recount when it's over. For more frequent updates, you can follow me on Twitter, and check out my teammate Jenna's blog over at Shape magazine, too. With your support, we'll both make it to the finish line. Wish me luck!
--------------------------------------------------------------------------------
Previous posts by Amanda MacMillan:
How to Go on an Exercise Date
How Do You Make Your Workout Fun?
2 Steps to Start Walking: Pick a Pedometer, Plot a Route
Last Updated: June 26, 2009
Filed Under: Get Fit Blog
Also Tagged: cross training, cycling, running, swimming, trainingComments (0)
The following content represents the opinions of Health.com users. It is not editorially reviewed for medical or factual accuracy. It does not constitute medical advice. See your doctor for medical advice.
Post a CommentPost a Comment
The rules: Keep it clean and stay on the subject or we may delete your comment.
Your email address is not published or shared. Required fields are marked with an asterisk (*)
Name
*
Email
*
Your Comments:
Notify me of follow-up comments via email.
Cancel Reply
--------------------------------------------------------------------------------
We require all participants in interactive areas to accept the terms of the Time Inc. subscriber agreement. Please read the agreement before making comments. When you click on the button above to submit your comments, you are indicating your acceptance of and are agreeing to adhere to the terms of the subscriber agreement..Text Size:
Advertisement
Gadgets powered by Google
Advertisement