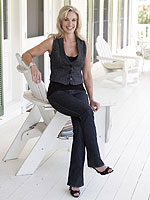 Four years ago, Bethany Hughes (now 45) was a slave to sweatpants, thinking they could hide the pounds she'd packed on. A crazy-busy working mother of two, she nibbled all day and grazed off her kids' plates. But in January 2005, when she hit her pregnancy weight and wasn't with child, the Houston native knew she had to make a change.
"After a good, long cry, I bought a pair of running shoes," she says.
Over eight months, Bethany lost 20 pounds simply by jogging, eating breakfast daily, and cutting out sugar.